Dinner Series: A Persian Experience
November 8, 2019 @ 6:00 pm

-

November 9, 2019 @ 8:30 pm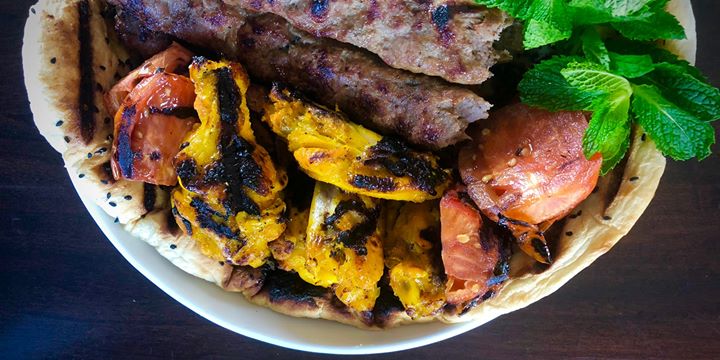 November 8 and 9 at The Caterers in Hopkins
Spend an evening discovering the Persian culture through a curated dinner by Chef Ali Teymouri from The Caterers, and Minnesota's award-winning food discovery platform Eat.Drink.Dish!
This new dinner series was created for the avid food enthusiast who wants to go beyond just eating out. They also want to learn about the story and cultural anecdotes behind it all.
In collaboration with CultureTastes, this dinner series will allow you to experience true Persian-style dining complete with interactive educational activities like Persian calligraphy or learning common phrases in Persian (Farsi) like 'Noosh-eh-Jaan' ("may it nourish your soul")!
This is a 3-month dinner series, starting in October, with 2 seating options each month.
For the month of November (Part 2) , we will be offering the following menu served family-style:
Starters
KASHKEH BADEMJOON (V) (Dairy)
House-made Persian eggplant dip mixed with onions, garlic and topped with yogurt
SHIRAZI SALAD (V) Freshly chopped onions, tomatoes, and cucumbers tossed in a house-made lime vinaigrette
Main Course
KABOB PLATTER
A mix of bone-in Joojeh (chicken) Kabob marinated with saffron, and Koubideh (ground beef) Kabob served with aromatic Basmati white rice
Dessert
PERSIAN ROULETTE (Dairy) W/HOUSE-BREWED HOT PERSIAN TEA
Light, moist cake filled with vanilla whipped cream and topped with strawberries and chocolate shavings
Libations
2 Cocktails TBA
Seating
Seating is very limited and will be available on a first-come, first-serve basis.
Free Parking
There is free parking in The Caterers parking lot or on the street.
About The Caterers
The passion for cooking runs deep with The Caterers. Our food has a distinctly Mediterranean flavor with undertones from Persian cuisine. The founders have over 40+ years experience in the hospitality, food, and bar industries. Our team will provide you with the most delicious food and the very best of service from first call to day after your event!
About Chef Ali Teymouri
Chef Ali's love of cooking began at an early age and has since transformed into a dynamic, lifelong process of creating and loving food. Years ago as a child in his mother's kitchen, Ali started his culinary adventures by helping his mother cook traditional Persian dishes. It was then that he first learned how rewarding it is to create quality dishes with fresh ingredients. He eventually desired to transition from not only cooking food at home, but to also become an active participant in the food service industry.