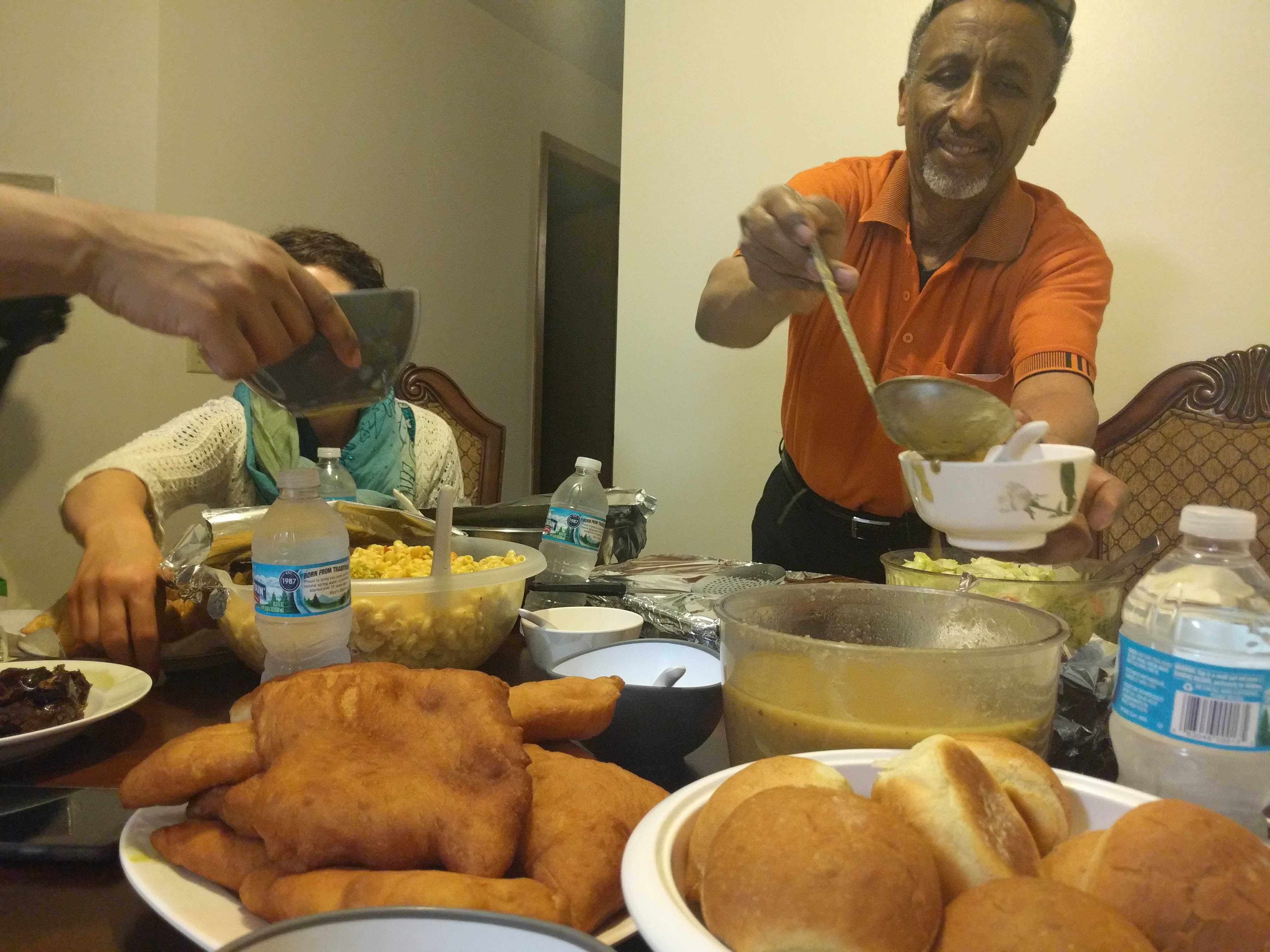 Osman Ali serves guests lentil soup, part of the Iftar dinner.
I'm not sure how Mohamoud Osman and I became Facebook friends, but the other day, I found this posting in my FB feed:
"Ramadan Kareem!!! If you are a non-Muslim and want to experience Ramadan to connect with people of the Muslim faith, Iftar is on me any night of your choice during Ramadan."
Although Mohamoud and I had never met face-to-face before, I accepted the invitation, and last week had dinner with the Osman family in their Park Avenue apartment. I arrived shortly before 9 p.m., and we introduced ourselves and talked for a few minutes until sunset, at exactly 8:58 p.m. Then it was time to eat: sweet dates to break the fast, followed by lentil soup, samosas, fry bread, salad, pasta and roasted goat. Most of the cooking was done by Mohamoud's aunt Halima, with help from his sister, Mariam. The men took a break for prayers, and then we finished with watermelon and cantaloupe, and some cookies I brought from Bill's Imported Foods.
The food was delicious, but the best part of the evening was the chance to get to know Mohamoud and his family.
It was the first time I had  been invited inside a Somali home, and I had lots of questions, which the Osmans were very happy to answer. Theirs is a classic American immigrant success story. Osman Ali, Mohamoud's father, arrived in the US in 1995, and moved to Minnesota in 1996. Starting with very little, he bought a car, then started a delivery service and driving school. For a while, he worked as a medical interpreter, and also started a restaurant and catering company, which he still operates, that provides halal meals to charter schools. In 2013, after years of collecting Somali cultural artifacts, Ali opened the Somali Museum of Minnesota at 1516 E. Lake Street, Minneapolis, which he now serves as executive director.
Today, his family is thriving. Mohamoud works with his father as program director at the Somali museum. Daughter Mariam teaches at the MTS Banaadir Academy, a Somali charter school. Oldest son Mohammed,  a medical interpreter at HCMC, is memorizing the Koran, and hopes someday to become an imam. And youngest brother, Mahad, is studying computer science at St. Paul College.  It is customary for Somali children to live with their parents, and much of the extended family lives together in two apartments in the same building. Although Osman and his wife are no longer married, the family remains close.
Mohamoud says he only got a couple of responses to his invitation, but the invitation is still open. If you would like to join Mohamoud and his family, you can contact him on Facebook at https://www.facebook.com/mohamoudm1.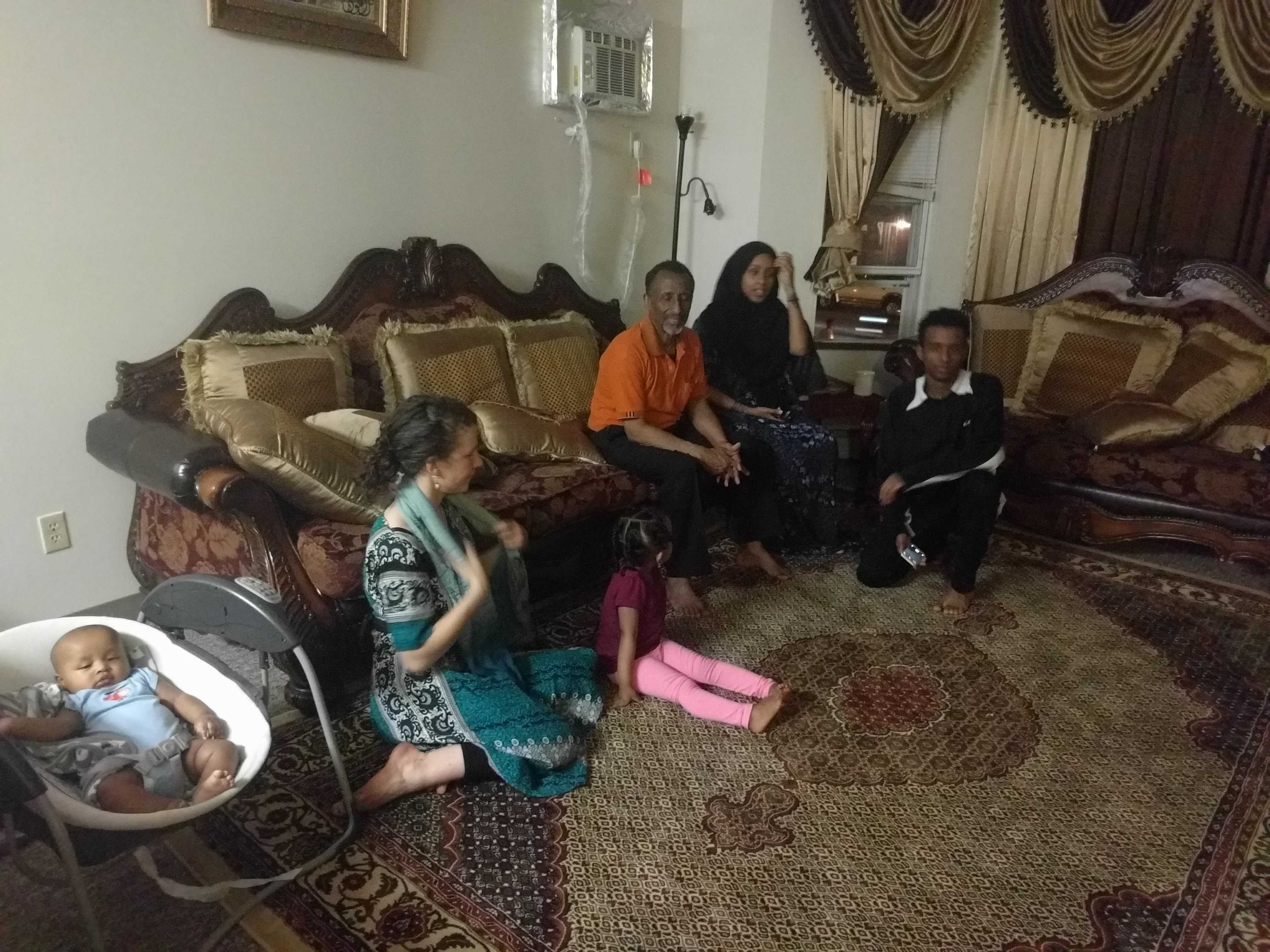 After dinner, guest Sarah Larsson (a colleague of Mohamoud and Osman at the Somali Museum), joins Osman, Mariam, Mohammed, and Halina's baby boy Mustafa and daughter Hibaq in the living room.