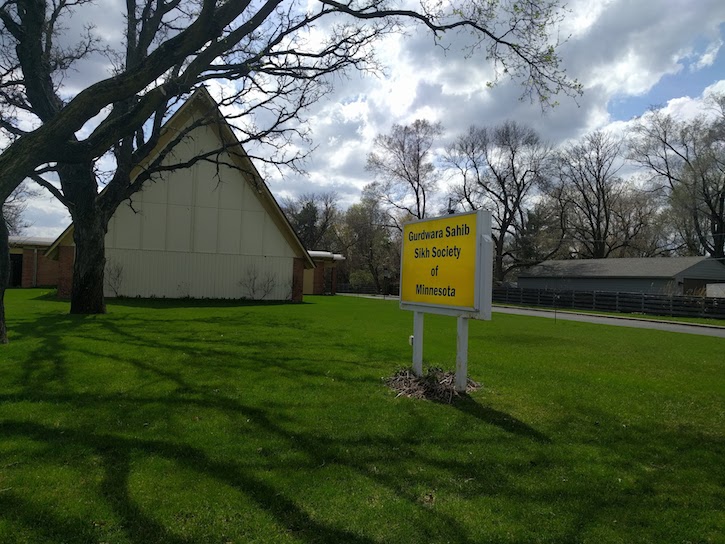 I'm always on the lookout for culturally diverse places, organizations and events to add to my GlobalTwinCities.com project, so when a Sikh acquaintance had mentioned to me that there is a gurdwara – a Sikh temple – in Bloomington, I decided to pay a visit.
A little online searching had revealed the website for the local Sikh community, and its Facebook page, where I discovered that this past weekend was a Sikh holiday – or rather a celebration of two holidays in one: a Punjabi harvest festival, and the anniversary of the initiation in 1699 of the Khalsa, defined by Wikipedia as " the collective body of all initiated Sikhs."
The Facebook event page said, "We invite the local and wider community to attend the 3 day event from 15th – 17th April 2016. Listen to the Guru's words from the Sri Guru Granth Sahib Ji, LIVE Kirtan and FREE Langar (food) served throughout."
The doors of the gurdwara were open, and I could see about a hundred men, women and children sitting cross-legged on the floor of the community room, eating and talking. The men wore turbans in different colors or bandanas; the women covered their heads with brightly colored scarves.
As I stood in the entryway, a young man in a blue turban approached me, and when I explained why I was there, he invited me in. A head covering is required, so he lent me a bandana (called a rumal), which he helped me tie in place. I removed my shoes before entering, took a seat on the floor, and was promptly brought a plate. Volunteers circulated with buckets and trays, dishing out simple but very tasty vegetarian fare – basmati rice, curry-like stews of chickpeas and potato, onion chutney and prashad, ( described here as "a sweet pudding made of mixed wheat, flour, sugar, and butter that is distributed as the divine gift of the Guru.")
I quickly got these sense that visitors are a rarity, but I was treated with courtesy, and when I had questions, members of the congregation were happy to explain.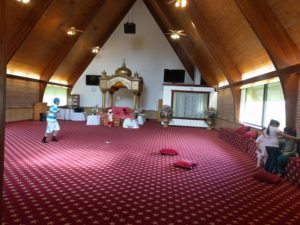 It turns out that I had arrived too late to experience the religious service in the adjacent sanctuary – which might be just as well, since it's mostly in Punjabi – but I would have enjoyed hearing the kirtan – the singing of hymns from the Guru Granth Sahib, Sikhism's holy book.
There are murals on the walls of the community room that illustrate some of the precepts of Sikhism's founder, Guru Nanak Dev Ji, but I really didn't have a chance to learn much about the faith during my short visit. The Wikipedia entry for Sikhism does make it sound like an eminently sensible religion: "The fundamental beliefs of Sikhism, articulated in the sacred scripture Guru Granth Sahib, include faith and meditation on the name of the one creator, unity and equality of all humankind, engaging in selfless service, striving for social justice for the benefit and prosperity of all, and honest conduct and livelihood while living a householder's life."
It's also, I gather, a very egalitarian religion, with men and women participating equally in preparing the common meals, and in reading from the holy book during services.
Last Saturday was a special holiday, but the gurdwara hosts services every Friday evening from 7 to 9 p.m. and Sundays from 9 a.m. to 1 p.m.
After my visit, Manjeet Singh, secretary of the Minnesota Sikh Society, shared some photos showing scenes from the holiday observance that I had missed: